Are you local to Traverse City and accepting new patients?
Novello Specialty Clinic is your local neurology, rheumatology and urology clinic located in Traverse City, Michigan. As of January 2022, we are accepting new patients. We're proud to offer a facility so our patients do not have to travel far for care.
Do you offer telehealth or virtual visits?
We do for rheumatology patients who are established and have circumstances that qualify them for telehealth/virtual visits. We also offer telehealth visits for Urology and Neurology patients.
A computer, tablet or smartphone with a microphone and camera are required. Please call the office to find out the details and answer any questions you may have regarding telehealth/virtual visits.
Do you treat children?
Currently, we are not not treating patients under 18.
How does a provider refer a patient to Novello Specialty Clinic?
Novello Specialty Clinic takes pride in making the referral process as simple as possible for the referring provider. By following the referral process, it will assure your patient has everything in place for prompt treatment.
Insurance regulations as well as patient safety requires that all information outlined in our process is included in the referral.
How long does it take to get an appointment?
Novello Specialty Clinic strives to be able to schedule a patient within 24 hours, but there may be some exceptions.
Is prior authorization required for referring a patient to Novello Specialty Clinic?
Prior Authorization (PA) from the insurance company may be needed. Novello Specialty Clinic cannot request the PA, and this must be done by the referring provider.
The referring provider will need to include the following information in the PA Request:
NOTE: PA is requested under the patient's Medical Benefit
Novello Specialty Clinic
4100 Park Forest Dr., Suite 200
Traverse City, MI 49684-7256
Call: 231.600.7466
Fax: 877.370.4631
Is there childcare available during my exam?
Unfortunately, we are not able to supervise your children during your time here. We believe that in order to best serve you, we need 100% of our attention on you. Therefore, we encourage you to make childcare arrangements or to bring a responsible person with you to supervise your children.
What are Novello Specialty Clinic's hours of operation?
Monday: 8AM–4PM
Tuesday: 8AM–4PM
Wednesday: 8AM–4PM
Thursday: 8AM–4PM
Friday: 8AM–2PM
Saturday: Closed
Sunday: Closed
For more information please contact us.
What conditions are commonly treated?
Neurology
CONDITIONS COMMONLY TREATED:
Parkinson's Disease
Tremor
Migraine Headaches
Huntington Disease
Memory Disorders/ Dementia/ Alzheimer's Disease
Seizures Epilepsy
Multiple Sclerosis
Neuromuscular Diseases
Amyotrophic Lateral Sclerosis (ALS)
Stroke
Sleep Disorders
Rheumatology
CONDITIONS COMMONLY TREATED:
Rheumatoid Arthritis
Polymyalgia Rheumatica
Systemic Lupus Erythematosus
Sjogren's Syndrome
Inflammatory myopathy
Dermatomyositis
Systemic Sclerosis
Mixed Connective Tissue Disease
Overlap Syndromes
Undifferentiated Connective Tissue Disease
Psoriatic Arthritis
Ankylosing Spondylitis
Spondyloarthropathy
Gout
Calcium Pyrophosphate Deposition Disease
Vasculitis
Sarcoidosis
Raynaud's Phenomenon
Urology
CONDITIONS COMMONLY TREATED:
Prostate Cancer
Bladder Cancer
Benign Prostatic Hyperplasia (BPH)
Erectile Dysfunction
Kidney Stones
Voiding Problems
And other miscellaneous urological conditions
REGULARLY PERFORMED PROCEDURES:
Prostate Biopsy
Radical Prostatectomy
Transurethral Resection of the Prostate (TURP)
Urolift ®
Lithotripsy
Bladder Sling
What do I need to bring to my appointment?
Your insurance card and any co-payment due so that we may submit your insurance claim on your behalf.
A photo ID – Please bring a valid form of photo identification such as a drivers license, military ID, etc.
What insurances are accepted?
The Novello Specialty Clinic is now accepting most major insurances. Please call the office for more information if needed.
What should I wear to my appointment?
Comfortable, loose fitting clothes are best.
What steps does Novello Specialty Clinic take to ensure my privacy?
Novello Specialty Clinic takes every patient's privacy very seriously. You may view our HIPAA Privacy Policy in the office at registration or contact us anytime for a copy.
Where do I park?
We are located at 4100 Park Forest Ridge Dr. Suite 200. Traverse City, MI 49684. You will see a parking area in the front/south side of the building. Enter through the main entrance, under the awning.
Where is Novello Specialty Clinic located?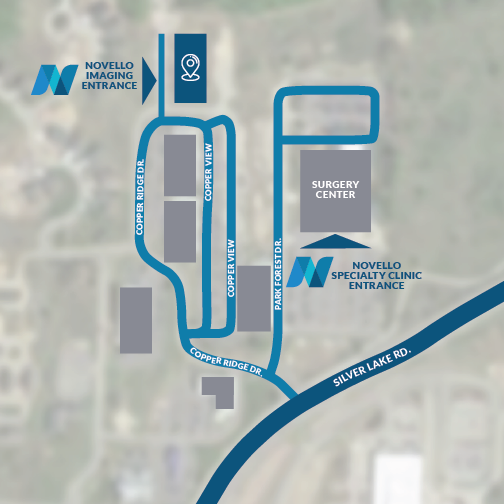 Novello Specialty Clinic is conveniently located inside the Copper Ridge Surgery Center Building on the second floor in Suite 200.
Our address is:
NOVELLO SPECIALTY CLINIC
4100 Forest Park Dr. Suite 200
TRAVERSE CITY, MI 49684
Why go to Novello Specialty Clinic instead of a hospital?
We're dedicated to putting our patients needs' first.
Our team provides care in the most cost-effective way possible while meeting the needs of each and every patient.
Comfortable Environment
Our center has a comfortable, cozy environment. It does not have the high traffic of a hospital environment. Our space is more spa-like.
Convenient Access
Our center is just steps away from parking and located in beautiful Traverse City, Michigan.